The Crypto VGA is our most advanced in-line payment system. The revolutionary touch screen makes paying easier and faster for your customers. The intuitive graphics displayed quickly guide the end user through the credit, debit or fleet card payment process.
But it's not just about innovative design, the Crypto VGA is an incredibly secure solution with the latest PCI approvals and anti-fraud solutions.
Features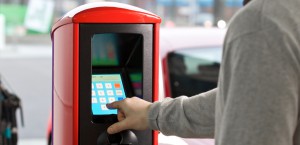 Slimtouch
The Slimtouch model of the Crypto VGA is the stand-alone in-line payment terminal. It combines an elegant appearance with an intelligent design. Placed on any lane island, it can connect to multiple dispensers and (especially third party) and control payment on site.
Housed in a rugged, corrosion-resistant case, it incorporates the most advanced anti-fraud features on the market. A compact base of only 24cm x 34cm (W x H) gives you optimal installation flexibility.
Touchscreen technology
Bring a touch of innovation that will set your track apart from the rest. A PCI-compatible color touchscreen reliably guides the customer through the purchasing process. License plate and mileage can be entered on the touch screen for fleet cards. As with all current smartphones, the clear images and icons make the entire process simpler and very easy to use, increasing throughput at your site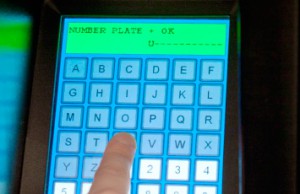 Payment method
Payment technologies are developing at a rapid pace. We offer secure, traditionally accepted payment methods such as credit, debit or fleet cards, and emerging payment technologies including RFID contactless cards and smartphone payments (NFC). All transactions are reconciled at the desk or site controller, in real time.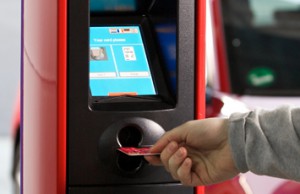 Anti-fraud protection
The payment solutions that run through Crypto VGA have received PCI UPT (v3) certification, which is an approval program specific to automated payment devices. We have the highest level of PCI approval available, and the solution is certified by several banks around the world. PCI (POI V3) approval gives you peace of mind. It is a guaranteed path forward that provides the most effective security solution for confidential payment card information. Anti-tampering and anti-skimming devices, as well as their constant evaluation, help reduce the risk of fraud. A privacy screen is built into the design to make customers feel comfortable and relaxed when making a payment on your site. Other security features include electric locks and fraud sensors.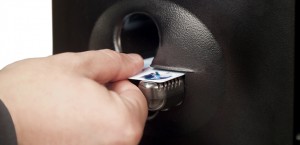 Fidelity and promotion
The Crypto VGA offers much more than just fuel payments. Customers can purchase a car wash; a prepaid phone card and many e-coupons can be issued through the touch screen terminal (e.g. discounts on food or beverages for a limited time). An optional barcode reader allows customers to redeem their coupons. The Crypto VGA also provides a direct customer interface platform for powerful promotional campaigns.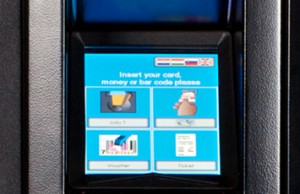 Never at the end of the road
The Crypto VGA uses the largest paper roll on the market for receipts. It lasts up to four times longer than other payment terminal suppliers. This reduces staff workload and keeps your equipment up and running longer, which is a critical feature for an automated site. When the 419-meter roll reaches the end of its life, a simple mechanism slides a new one in its place – an easy and efficient replacement method that does not require access to the Crypto VGA's secure environment.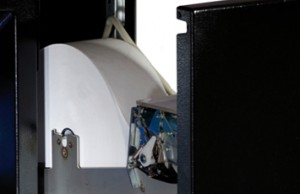 Multi-language option
The Crypto VGA can now communicate in 17 different languages, helping your customers to fill up without confusion. The user simply chooses their language at the beginning of each transaction and is guided through the entire payment process. The whole payment and refueling process is simplified and refueling is faster.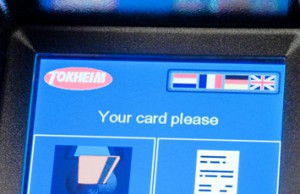 Benefits for quality and service
Manufactured in the European industrial center with innovative, solid and robust components, the Crypto VGA benefits from renowned quality testing processes. A digital maintenance platform carefully records every operation performed on the device by service personnel. To enhance HSSE, interactive instructions guide potential third-party technicians through the process. All data is centralized before the technician completes his or her work at the payment terminal.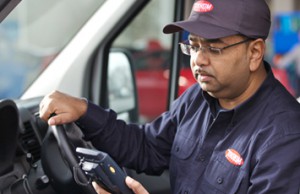 Personal barcode reader
The Crypto VGA offers an optional barcode reader module for reading different types of barcodes. The reading is simply done within the consumer interface. This is a very interesting option if you want to validate discount slips issued by the BNA, convert vouchers or increase sales through a variety of loyalty application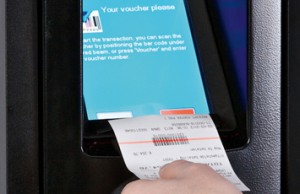 Specification
Crypto SlimTouch
• Island Terminal for cards PCI PTS POI V3 – UPT certified
• Attractive slim-line pole design
• Easy access for paper roll replacement
• Excellent ergonomics
• ADA compatible
• Privacy screening conforming to international and national bank requirements
Base:
• iMX31 secure processor
• 6.4" colour VGA display with a touch screen which is a PCI compatible PIN pad too
• EMV & PCI PTS POI compatible secure hybrid card reader (magnetic stripe + chip)
• Thermal ticket printer with paper detection with large paper roll >400m •
• The printer unit can be accessed separately to provide enhanced access to the extended paper roll
• LAN connection to POS system
• Privacy shield integrated in design
• Electrical lock (application driven)
• Fraud detection sensors
• Power supply: 1 phase 230V AC
Options:
• RFID contactless reader integrated in design
• Barcode scanner
Other features:
• Loyalty
• Remote diagnostics
• Audio/visual instructions
• Intervention-, fuel delivery- and service access card
Approvals:
• EMV level 1&2
• PCI PTS POI v3 including UPT certification
• Common Criteria EAL4
• Variety of National and Regional bank approvals
• TQM
• European approvals (W&M/MID, OIML, EMC, Safety etc.)
Environmental conditions:
• Ambient temperature: -25°C to +60°C for standard configuration
• Relative humidity: 5% to 95%, non condensing
• -40°C to +60°C for extended configuration
• Opening for card reader and printer result in an IP23 rating, while remaining design and sealing is IP54.
• Extensive national bank approvals